Main Page
From Bioinformatics Software
Jump to navigation
Jump to search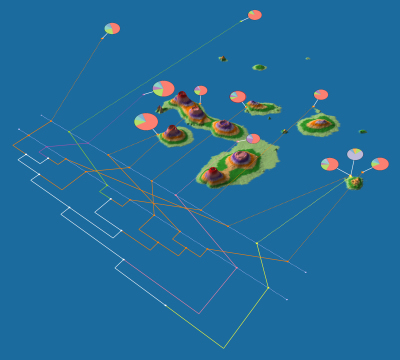 Welcome to the Bioinformatics Software and Resources page.
Software
Key: P = phylogenetics, S = statistics, B = biogeography, V = visualization, G = genomics, M = metagenomics, L = lateral genetic transfer, A = sequence alignment
GenGIS: an application that allows users to combine digital map data with information about biological sequences collected from the environment. GenGIS provides a 3D graphical interface in which the user can navigate and explore the data, as well as a Python interface that allows easy scripting of statistical analyses using the Rpy libraries. (PSBVM)
Radié: a tool that allows characters to be visualized against the background of a phylogenetic tree. The software includes several different visual and numeric representations of the 'convexity' of a given character, in other words the extent to which different character traits form distinct groups within the tree. (PV)
STAMP: a software package for analyzing metagenomic profiles that promotes 'best practices' in choosing appropriate statistical techniques and reporting results. (SMV)
EvolSimulator: a simulation test bed for hypotheses of genome evolution. (PL)
WOOF: a tool designed to rigourously apply the principle of visual alignment validation. (SA)
GANN: a machine learning method designed with the complexities of transcriptional regulation in mind.
Web Services
MOA (to be added)
Visual MOA (to be added)
Datasets
Contributors